EastVanLove Tweetup Volume 3 [Art Edition]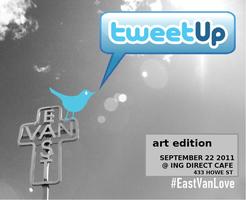 Thu Sep 22 5-7pm | FREE! ING Direct Cafe
Graffiti, photography, installations, pop up art shows; East Vancouver is known for its creativity. But who are the faces behind this progressive and flourishing artistic vibrant community? At EastVanLove Volume 3, we will feature artists and photographers speaking about their work and how East Van has influenced them. We will invite Leah Gregg, Ruven (Mainly Main Magazine) and Nicole Ignacio (of the Main Street Art Collective) to speak about how their artistic work is challenging the future of our hood. There will also be an opportunity for networking and people to give a 60 second pitch about their community organization or business at the end of the event.
Check back for further updates and speaker lineup. + if you have speaker in mind or if you'd like to help out email us [ajay at eastofmain.com]!
Get your tickets while they're hot --> via our eventbrite page (don't worry, tix are FREE!) Thanks!
Ajay + Linzi on behalf of the East of Main team ps: Event is sponsored by RED TRUCK BEER (that's right, we'll have beer on tap!)
This event is part of Social Media Week - Vancouver Partial funding provided by the Mount Pleasant Neighbourhood Small Grant
Check us out on twitter